Casting Business(Cast steel)
Our philosophy of "High Quality and High Precision"
Casting products strongly support various industries. Tochu, as a reliable partner of the industrial world, manufactures many types of casting products based on its experience and knowledge of casting sand.
TOCHU is also proceeding with further approach to achieve the higher quality and the more accuracy of the products by the integrated production system from Casting to Machining. TOCHU appreciate that we receive high credibility and evaluation from many customers.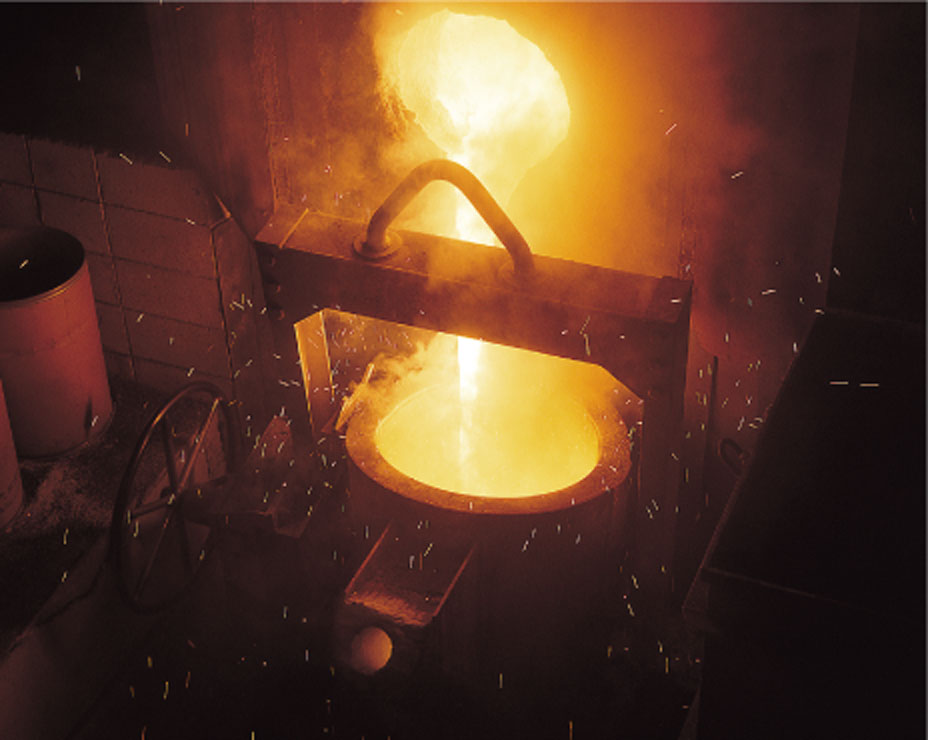 Casting process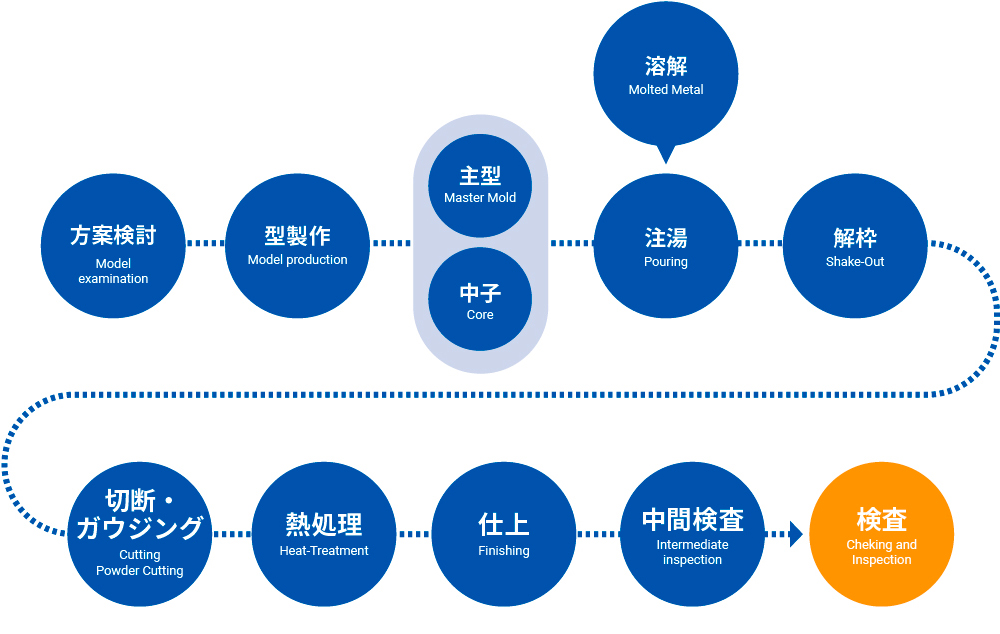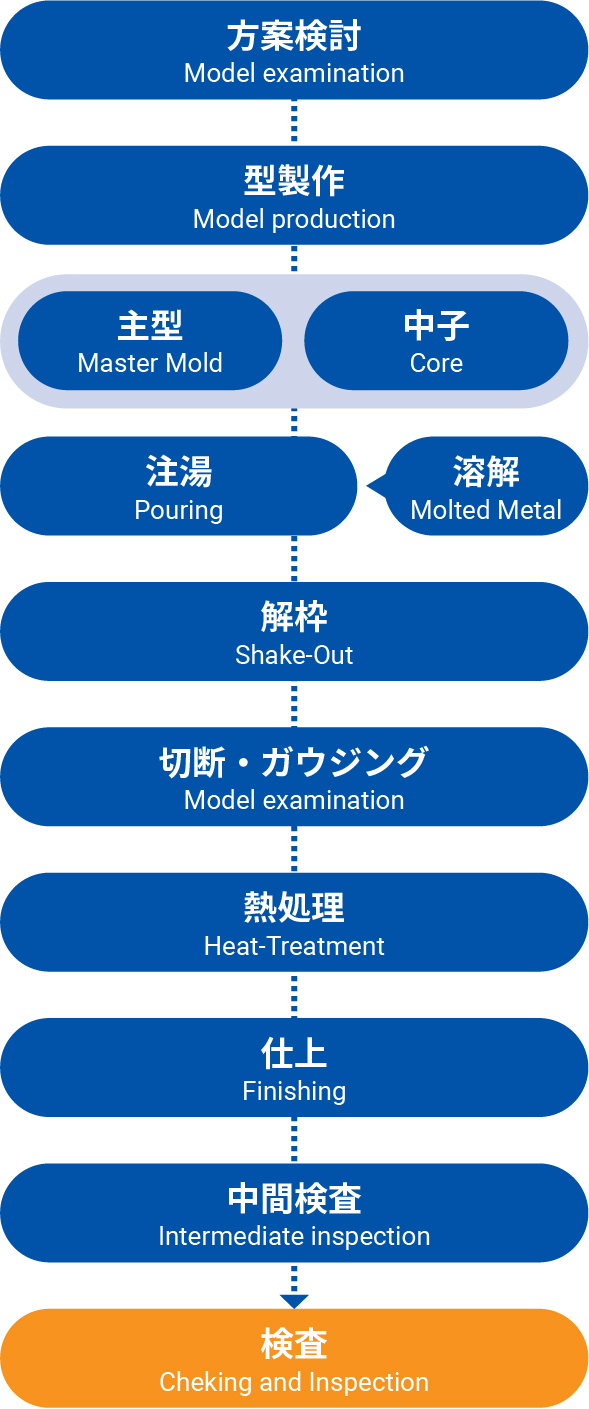 High quality and precision are the most important factors in the casting production process. Tochu has developed our own production system utilizing a wide variety of technologies. Using the latest equipments at our plants, Tochu eliminates every unnecessary, useless and inconsistent tasks in order to keep smooth flow between operation stages, and consequently Tochu makes it possible to pursue the highest precision for our products.
Under this severe management system, Tochu can meet a wide range of customers' needs of cast steel products, such as standard steel, stainless steel and heat resistance cast steel, and aluminum cast products and so on.
AMS-08 molding machine

Sand processing equipment

AMS-08 line
Equipment list
Main equipment
Model
Manufacturer
Owned number
Remarks
High Frequency Electric Induction furnace
VIP POWER-TRAK
Inductotherm
3
1t furnace x 3
AMS raw molding automatic molding
AMS-08
Tokyu co.,ltd.
1
Frame size
600×800×250mm
Self-hardening large molding
730AR
TAIYO MACHINERY CO.,LTD
1
Frame size
1,000×1,000×400mm
Shot blasting machine
-
SINTOKOGIO, LTD. And others
7
1 monorail type, 2 apron type, 2 drum type, 1 nozzle type, 1 hanger type
Self-hardening hand-made molding
-
TAIYO MACHINERY CO.,LTD
1
Frame size
700×500~1,800×1,800mm
Distortion machine
-
DAIMA Ironworks
1
Pickling equipment
-
SWIRAY CO.,LTD.
1
Whetstone Automatic Cutting Machine
-
NIPPLA TRADING CO.,LTD and others
7
Annealing furnace
-
-
1
Thermal refining furnace
-
-
1
Electric furnace
-
KITAMURA Electric furnace
1
Optical Emission Spectrometer
PDA-7000
SHIMADZU CORPORATION
1
Hydraulic Universal Testing Machines
UH-300kNX
SHIMADZU CORPORATION
1
Impact tester
300CR-M1J
YONEKURA MFG. Co., Ltd.
1
Brinell Hardness Meter
A943501
TOKYO KOKI
1
Vickers Hardness Meter
AVK-M
Akashi Seisakusho
1
Metal microscope
PME-typeII 10/1273
OLYMPUS
1
magnetic particle flaw detection equipment
A1075
Denshijiki Industry Co.,Ltd.
2
Portable magnetic particle flaw detector
-
Denshijiki Industry Co.,Ltd.
2
Crane
-
MITSUBISHI,HITACHI
10
Forklift
-
TOYOTA and others
9
Welding machine
-
PANASONIC and others
30
wooden mold Warehouse
Based on many years of experience, we devised a plan and made a wooden mold pattern.
It is managed and stored in a dedicated wooden mold Warehouse.
Production capacity
130t/month
Steel type
SC(Ordinary steel)

SC450、SC480、SCPH2、WCB and others
SCPH(Cast steel for high temperature and high pressure)

SCPH21、SCPH32、WC6、WC9 and others
SCPL(Steel for low temperature and high pressure)

SCPL1、LCB9 and others
SCW(Steel for welded structures)

SCW480 and others
SCS(Stainless steel)

SCS13、SCS14、SCS16 and others
SCH(Heat-resistant steel)

SCH13、SCH18、SCH21、Heat-resistant steel for automotive parts and others
Alloy steel (tool steel)

Tool steel for press dies and others
Niresist (Austenite cast iron)

FCDA-NiCr and others
Factory certification
ISO 9001/2015 (JSAQ1383-13)
ISO 14001/2015 (JSAE1289-9)
NK(Nippon Kaiji Kyokai)(ClassNK)

Carbon steel, low alloy steel, stainless steel
LR (Lloyd's Register of Shipping)

Carbon steel, low alloy steel, stainless steel
CR (CLASSIFICATION SOCIETY)

Carbon steel, low alloy steel, stainless steel
DNV/GL

Carbon steel, low alloy steel, stainless steel
KR(Korean Register of Shipping)

Carbon steel
BV(Bureau Veritas)

Carbon steel, low alloy steel, stainless steel
PED

Carbon steel, low alloy steel, stainless steel
JAPAN WATER WORKS ASSOCIATION

Carbon steel, stainless steel
Valve part name
Ball valve
Butterfly valve
Gate valve (partition valve)(gate valve)
Angle valve (elbow valve)
Glove Valve (Jade Valve)(ball valve)
Swing valve (reverse valve)(check valve)
Strainer
Sight Glass
Automobiles/Railway vehicles/Others
Turbine housing
Exhaust Manifold
Axle box body(Shaft box body)
Accompanied board guard
Brake shoe head(Wheeled head)
Traction motor receiver(Main electric motor receiving)
Tile tray
Main products
Automotive Function Parts
Turbine housing all-in-one design exhaust manifold for gasoline turbocharged engine

exhaust manifold for gasoline turbocharged engine

Turbine housing for gasoline turbocharged engine
Valve parts
General type of ball valve for industry of chemical oil refinement etc.

Large caliber valve body

General type of globe valve for industry of chemical oil refinement etc.

Tray for tile baking