Company Overview・business Activities・domestic base (access)・customer
Company Overview
Company Name

TOCHU CORPORATION
Establishment

March 1933
Capital

890.6 million yen
Sales

33.191billion yen (From April 1, 2021 to March 31, 2022)
66.0 billion yen on a consolidated basis
President

Takeshi MORITA
Number of Employees

552 (male: 477 female: 75)
2070 (including Group Company)
Business Activities

Sales of Natural Silica Sand for Casting, Resin Coated Sand, and any kinds of Casting Materials
Sales and manufactures of Silica Sand and Raw Materials for Glasses and Ceramics Heat Resistant and Stainless Cast Steel
High Presser Die Casting for Aluminum Alloy and Machining and Assembly of Casting
Headquarters

5 Nakashinden, Noma, Mihama-Cho, Chita-Gun, Aichi- Prefecture
Place at Factory

Noma(Aichi Prefecture),Kamezaki (Aichi Prefecture)
Hokkaido,Kanto,Ibaraki
Shizuoka,Osaka,Kira(Aichi Prefecture),Fukushima,Hokuriku
Branch Office

Noma,Nagoya,
Nagano,Hokuriku,
Fukushima,Michinoku,
Kanto,Tokyo,
Shizuoka,Osaka,
Kansai,Okayama,
Kumamoto,Kitakyushu
Factory

Industrial Factory,Aluminum PDC Factory,YunotsuFactory
Oversea Factory

Australia,Thailand,Indonesia,Malaysia
Group and Subsidiary Company

Toyo Matelan Corporation
ATSUTA INDUSTRY CORPORATION
FUKUTA INDUSTRY CORPORATION
Sugitani Metal Industry Co.,Ltd.,Okazaki Minerals & Refining Co.,Ltd.,Yamamoto Seisakusho,Inc.
FUJIKINZOKU CO.,LTD.,Kyushu Coated Sand Co.,Ltd.,Tokai Unso Transport Co.,Ltd.
Tochu Service Ltd.,SHIN MINAMI AICHI CORPORATION
CHITA BEER CORPORATION and Others
business Activities
Silica sand

Resin Coated sand

Refractory materials
and melting materials

Casting items

Mold design and production
Silica sand (for use in foundry, ceramics raw material, construction, and sand blasting)

Yunotsu silica sand
Enshu silica sand
Mikawa silica sand
Albany silica sand
Kemerton silica sand
ACI-G silica sand
Terengganu silica sand
CERABEADS-X(CB-X)
TSM-60
Zircon Sand
Alsand
Recycled sand
and others

Resin Coated sand

High Strength
Low Gas Contents
Low Expansion
Low Heat Resistibility, Air Permeability
Air Permeability
Bulk Density
Low Residual Strength
Others

CO2 processed sand
Binders

Bentonite(domestic, imported)
Furan
Resin
Cold Box Process
Various Phenol Agent
Various Self-Hardening Mold Agent
Others

Mold wash agent

Various type of Graphite
Zircon Flour
Silica Flour
Alumina Flour
Various Parting agent
Various Casting Agent
Others

Resin materials

Furan resin, phenol
urethane resin, polyol
urethane resin
Others

Parting agent

Shell Mold Material(water or oily)
Green Sand Mold for Cold-Box Process
Metallic Patern
Others

Grinding Material

Stell Shot Ball
Grit
Cut Wire
The Glass Bead

Pig iron

Various pig irons
coke
compounding agents
charcoal materials
scrap

Non-ferrous metals

Aluminum Ingot
Black Lead Crucible
Flux Materials(Copper alloy light alloy)

Mineral product

Kaolin
Zircon sand
Chromite Sand
Others

Molding materials

Chaplet
Chiller
Benthole
dowel pin
Strainer
Molding Seal
Sleeve
Various type of Adhesive
Ceramics Filter
Coal Powder
Others

Refractory Materials and Melting Materials

Bricks
Mortar
Magnesia Stamp Material
MD Coil Cement
Various Alloy Steel
Tablet Carburize Various type of Briquette
Others

Others

Exothermic Agent
Heat Insulator
Various type of Burner
Various process of Mold(Shell-, β-, Cold Box-, CO2-)
Starch(α-, β-)
Corn Starch
Dextrin
Sragg Off Argent
Others

Various machinery and equipment

Waste sand recovery and recycling equipment
mixing and kneading plant
transfer system
cooling
drying sieving (classification) equipment
low-pressure casting machine
GDC casting machine
deburring robot (shell core, casting)
chip crusher
sewage treatment
Dust collector
energy saving (heat recovery) equipment
industrial heating furnace
light alloy melting and heat treatment furnace
shell machine (for main mold / core)
EDC (electrostatic oil purifier)
various casting molding machines and Ancillary equipment set
electric meter equipment and various maintenance

Casting items

Carbon steel such as SC SCPH SCPL SCW SCS SCH SXC1
high-temperature and high-pressure steel (various)
low-temperature and high-pressure steel (various)
welded structural steel
stainless steel (various)
heat-resistant steel (automotive parts)
tool steel for press molds
PDC aluminum castings
GDC aluminum castings

Processing and assembling of machines

Valves
pumps
heavy machinery parts
general machining and assembly

Industrial waste disposal business

Intermediate disposal (cultivated and burned)

Aichi Prefecture... No 02320120276

Shizuoka Prefecture... No 02221120276

Osaka Prefecture... No 02720120276
domestic base
Gathering Tochu Group Companies' power together, our dream will expand into the future.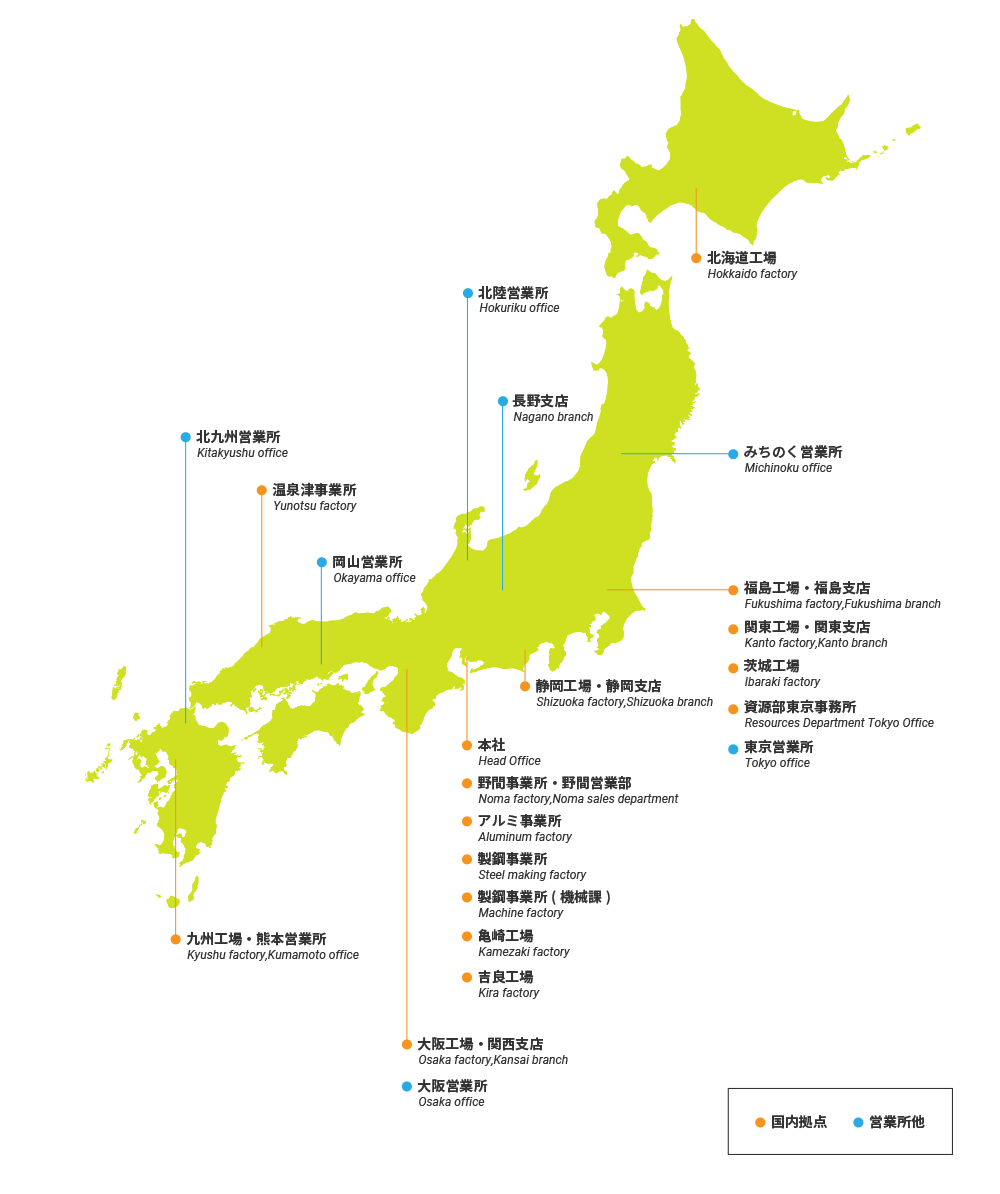 Major Customers of Silica Sand Division
Car relations
AISIN SINWA CO.,LTD.
AISIN CORPORATION
AISIN TAKAOKA CO.,LTD.
AT TOHOKU CO.,LTD.
Aichi Machine Industry Co.,Ltd.
IJTT Co.,Ltd.
Isuzu Motors Limited
AT KYUSHU CO.,LTD.
KIRIU Corporation
Global Component Technologies Corporation
SUZUKI MOTOR CORPORATION
Tokyo Light Alloy Co.,Ltd.
TOYOTA MOTOR CORPORATION
TOYOTA INDUSTRIES CORPORATION
NISSAN MOTOR CO.,LTD
NIPPON PISTON RING CO.,LTD.
Hino Motors, Ltd.
Honda Motor Co.,Ltd.
Honda Foundry Co.,Ltd.
Mitsubishi Motors Corporation
Yamaha Motor Co.,Ltd.
Machine relations
IHI Agri-Tech Corporation
ITOH KIKOH CO.,LTD.
KITZ CORPORATION
KUBOTA Corporation
Kurimoto,Ltd.
KVK CORPORATION
KYB-YS CO.,LTD.
Komatsu Ltd.
JTEKT CORPORATION
Toyo Valve Co.,Ltd.
NAKANIHON CASTING Co.,Ltd.
NIPPON CHUTETSUKAN K.K.
HIGASHIO MECH Co.,Ltd.
LIXIL Corporation
Ceramics & chemistry relations
Aica Kogyo Company, Limited
Aichi Keisou Co.,Ltd.
ISHIZUKA GLASS CO.,LTD.
ISOYA GLASS INDUSTRY CO.,LTD.
AGC Inc.
Okubo Glass Co.,Ltd.
ONAHAMA SMELTING AND REFINING CO.,LTD.
Central Glass Co.,Ltd.
Daiichi Glass Company Ltd.
TAKANOSHOJI co.,ltd.
TOYO-SASAKI GLASS Co.,Ltd.
NICHIAS Corporation
Nippon Sheet Glass Co.,Ltd.
NIPPON CHEMICALI NDUSTRIAL Co.,Ltd.
NIHON SILICA INDUSTRY Co.,Ltd
JAPAN SEIKO GLASS Co.,Ltd.
NIHON TAISANBIN GLASS BOTTLE MFG. Co.,Ltd
Nihon Yamamura Glass Co.,Ltd.
HAKUYO GLASS Co.,Ltd.
HARIO CO.,LTD.
YAKUSHIMA DENKO CO.,LTD.
Major Customers of Casting & Molding Division